My Goals for Sportsmanship at CSAS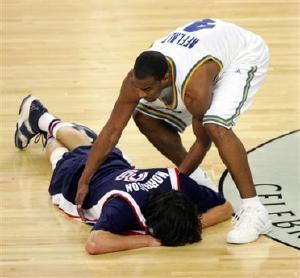 Athletics and Extra-Curriculars

As athletics began this past week it reminded me of some goals I have for us as a school community. I love the intensity of ball games and young people working hard out on the court or on the field. Hustle, sweat, sportsmanship...these are all things we like to see out of teams. What I have not enjoyed over the past few years is the intensity in the stands. At times, I think we have gotten away from the purpose of athletics. Yes, a few will move on to college because of their skills in athletics, but very, very few will make it as a professional athlete. It will not be their career. It will not be what feeds their families. However, some of the skills they learn while out on the court or field will transfer into their jobs, lives, careers, and families. Things like perseverance, team work, sportsmanship, passion, work ethic, winning, and yes, even losing. You see, these are the things that are truly important about our students being involved in athletics. Not the poor referees or umpires who are making bad calls, not that we might lose the big game, but all these other skills and traits that will take them far.
I would like for you as a CSAS Patriot fan to realize that it is not easy to secure coaches anymore. It's a lot of extra work for not much appreciation. Some do it because they love it. They love making a difference in young people's lives, but others feel the need to be at home with their own children because honestly, why extend your day 2 to 6 hours a day only to have parents and fans that want to criticize.
With all of this being said, I want to share a similar thought I shared with the senior class just this past week. Remember that our sporting events are not life or death situations. They are learning tools for later in life. When you attend a CSAS sporting event, I want you to know that our coaches and players work very hard to do the best they can do. They are going to make mistakes. They are going to make poor decisions. They are going to make great plays. And they are going to make good decisions too! We are going to have refs, umpires, and officials make poor calls that go against us, and some that will go our way. But please remember this...we are there to SUPPORT our teams and coaches, not critique them. We need to act with SPORTSMANSHIP at all times with the officials and other teams and guests. We need to MONITOR ourselves too and politely set the expectation whether we are at home or away. Let's be excellent examples for our students! Let's be as great as we tell people we are. Let's be THE PATRIOT NATION!
-Jim Boles
Principal CSAS
Grades 6-12